Treasure Hunts in Richmond Surrey, SW London
Indoor events & outdoor challenges in the Borough of Richmond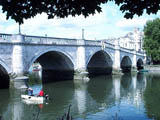 Richmond upon Thames is a green and pleasant suburb of South West London, close enough to central London to be easily commutable by rail and tube, yet far enough away to have its own small town feel. It has Royal connections too - the remains of a 16th century palace and the largest Royal Park in London, plus a riverside location to tempt an armada of towpath walkers, boating types, pub-goers and diners.
X Marks The Spot offers an exciting range of treasure hunts in and around Richmond - or indoors - for work colleagues, friends and family - whether team building, partying, fund raising or sightseeing.
Ready made or Bespoke, Self-run or Fully facilitated, for 2 people to 200 - explore our product range to find the treasure hunt in Richmond that best suits your group, occasion, needs and budget.